You are browsing the Blog for Mistress.
February 6, 2012 in live cams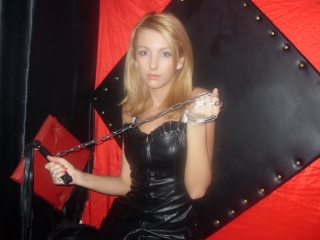 When you encounter such a beautiful Domme as MistressInga, you know that you have to bow down, worship and serve her immediately. Young, blonde and dressed to tease, She desires (and expects) tributes if you are the kind of pathetic loser who is incapable of pleasing Her in any other way.
As well as small penis humiliation and femdom teasing, Mistress Inga also specializes in bondage, CBT, sissy strapon training, cuckold and verbal humiliation. This Russian Mistress loves teasing and tantalizing domination, but be warned, She sets very high standards!
December 13, 2011 in live cams
Cam Domme Mistress Lindsay describes herself as "intense, demanding, cruel and sadistic". She's clearly the type who has studied her chosen fetishes down to the very fine details, and takes what she does very seriously. And luckily for you, her fetishes include tease and denial and orgasm control. Also she loves chastity, erotic hypnosis, ballbusting and CBT.
She's very well equipped for her webcam shows, and as she stands up right now on her live cam, I can see that she's wearing a nice little black top with patterned stockings. She has many BDSM accessories and toys, and also many fetish outfits including leather, rubber, uniforms and masks.
As I watch her live on cam right now, she looks very calm and composed. The calm before the storm maybe? Cross her at your peril, and serve at her insistence…
December 7, 2011 in Humiliation POV
As a Brit, it seems to me that the American accent adds to the tease and denial experience. It reminds us that the Princesses and Mistresses who do this are VERY materialistic, and expect you to have "the goods".
And if you don't have the goods? Well then you're a loser and you deserve to be treated like one! This video is a tour de force of trash talking, from teasing wenches who really know how to lay it on thick. So if you've got a tiny dick, or a tiny pay packet, or both…then these Mistresses will treat you like the loser you are…
November 7, 2011 in live cams
Well we can certainly not accuse femdom cam tease MistressChatze of bending over backwards to please others! Her profile makes it obvious that there are very specific things which turn her on, and that she is dedicated to performing those things to fulfil her own fantasies and bring herself maximum satisfaction. Tease and denial and small penis humiliation are two of her favorite fantasies, so if you've got a small dick and like to be teased and humiliated then you're in luck. But remember, this webcam Mistress is doing it to fulfil her fantasy, not yours.
Her other specialities indicate a willingness to not merely confine her live cam sex shows to the teasing fetishes. Mistress also enjoys domination, whipping, blowjobs, sensuality and voyeurism. And from her pics we can see that she enjoys sexy fetish clothing too, including boots. So if you like a cam Dominatrix who can mix it up, be hard or soft but always in control, then she's the one for you.
November 1, 2011 in live cams
New cam dominatrix QueenNatasha is quite a mover. When I was trying to get a screenshot of her to post on this blog, it was impossible to get her to sit still! Maybe she's hyperactive because her webcam slaves don't pacify her enough. Maybe she gets bored easily, which is hardly surprising when she's having to deal with so many worthless webcam submissive slaves who don't satisfy her in the slightest. But you're different, aren't you?
In addition to tease and denial, Queen Natasha also offers cuckold fantasy, feminization and sissification, body worship, facesitting, foot worship, punishment and other forms of femdom. She also has many clothing fetishes including lingerie, stockings, pantyhose, high heels and boots! I think she's quite new to live camming because she doesn't have a photo gallery. So why don't you go on over and endear yourself to her? And if she's not online, I'm sure there will be a tease and denial cam Mistress available to provide the humiliation that you thoroughly deserve….
October 26, 2011 in Cuckold Mistress
Oh, it's not for his pleasure that he's licking her pussy. The aim is not to get her wet enough that she might crave his aching throbbing dick. Nope, this cuckold wife has got bigger and better men to fuck. Hubby can't have sex with her, but he can at leas give her the satisfaction of oral sex, even though he's not very good at licking her clit. This teasing Mistress wife probably has a scathing assessent of his performance, but she's used to it by now.
With the combination of his tiny cock and unskilled tongue, it's no wonder she started cheating and fucking other guys!