You are browsing the Blog for CBT.
June 4, 2013 in Femdom Empire
Go on, kick him in the nuts!
May 30, 2013 in Kinky Kicks
Ball biting is her speciality! Shrivel up and weep!
June 3, 2012 in Femdom Empire
I guess that if Mistress is to allow her slave the privilege of cumming, then the only type of orgasm he can have must be a humiliating one! Bound with his feet shackled and legs wide apart, his balls must be in the most exquisite pain with that rope tied tightly to them.
He can cum, but it comes at a price. His orgasm will hurt like hell, and he will spew his hot sticky jizz directly into his own face!
March 2, 2012 in Kinky Kicks
It's not everyday you'll see gorgeous Mistresses at the swimming pool, clad in leeather, stockings and boots. But like with anything else, these teasing Dominatrices are highly skilled and competent swimmers, while their useless slaves are somewhat pathetic in the water.
He's lucky enough to be allowed an orgasm from a rough femdom handjob, but only after the cruel Mistress has been slapping and squeezing his balls…
February 6, 2012 in live cams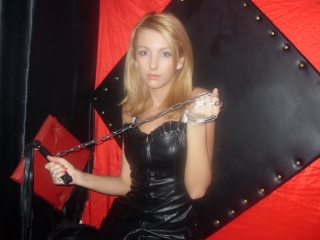 When you encounter such a beautiful Domme as MistressInga, you know that you have to bow down, worship and serve her immediately. Young, blonde and dressed to tease, She desires (and expects) tributes if you are the kind of pathetic loser who is incapable of pleasing Her in any other way.
As well as small penis humiliation and femdom teasing, Mistress Inga also specializes in bondage, CBT, sissy strapon training, cuckold and verbal humiliation. This Russian Mistress loves teasing and tantalizing domination, but be warned, She sets very high standards!
December 19, 2011 in Kinky Kicks
I'm not normally one for novelty porn, but I have to say that this Christmas-themed ballbusting video did make me smile. It's not exactly the season of goodwill for these teasing humiliatrixes, but they do intend on having themselves a lot of festive fun.
Stripping out of their Santa outfits, and displaying their beautiful bodies, they soon make their brutal intentions clear by kicking the guy hard in the nuts with the force of their high heels…
December 13, 2011 in live cams
Cam Domme Mistress Lindsay describes herself as "intense, demanding, cruel and sadistic". She's clearly the type who has studied her chosen fetishes down to the very fine details, and takes what she does very seriously. And luckily for you, her fetishes include tease and denial and orgasm control. Also she loves chastity, erotic hypnosis, ballbusting and CBT.
She's very well equipped for her webcam shows, and as she stands up right now on her live cam, I can see that she's wearing a nice little black top with patterned stockings. She has many BDSM accessories and toys, and also many fetish outfits including leather, rubber, uniforms and masks.
As I watch her live on cam right now, she looks very calm and composed. The calm before the storm maybe? Cross her at your peril, and serve at her insistence…
November 1, 2011 in live cams
New cam dominatrix QueenNatasha is quite a mover. When I was trying to get a screenshot of her to post on this blog, it was impossible to get her to sit still! Maybe she's hyperactive because her webcam slaves don't pacify her enough. Maybe she gets bored easily, which is hardly surprising when she's having to deal with so many worthless webcam submissive slaves who don't satisfy her in the slightest. But you're different, aren't you?
In addition to tease and denial, Queen Natasha also offers cuckold fantasy, feminization and sissification, body worship, facesitting, foot worship, punishment and other forms of femdom. She also has many clothing fetishes including lingerie, stockings, pantyhose, high heels and boots! I think she's quite new to live camming because she doesn't have a photo gallery. So why don't you go on over and endear yourself to her? And if she's not online, I'm sure there will be a tease and denial cam Mistress available to provide the humiliation that you thoroughly deserve….
October 26, 2011 in live cams
She may look tiny, but she's bigger than your cock! This femdom webcam tease goes by the name MilkMyCock, but honestly you'll have to beg if you believe that you are worthy of such relief. She's seen losers like you before, and she's even done live cam shows for some of them. But honestly, most men like you are just a waste of her precious time.
So, if you believe yourself worthy of a private show with her, then this is what you should know. She enjoys small penis humiliation, strapon training for sluts like you, financial domination (have your wallet handy), blackmail, jerkoff instructions for compulsive masturbators (or wankers as we say in the UK). Also cuckold, feminization, sissy training and blackmail. And that's just for starters…