You are browsing the Blog for bondage.
October 30, 2013 in GIFs
10th day of orgasm denial:
— I think I'll let you cum tomorrow.
15th day of orgasm denial:
— I remember what I've promised, but I'm sure you can wait one more week.
October 14, 2013 in chastity
Shaved, caged, and pantied… Bound and kept in place with an ass-hook, as well? This sissy needs a spanking.
September 23, 2013 in chastity, GIFs
June 3, 2012 in Femdom Empire
I guess that if Mistress is to allow her slave the privilege of cumming, then the only type of orgasm he can have must be a humiliating one! Bound with his feet shackled and legs wide apart, his balls must be in the most exquisite pain with that rope tied tightly to them.
He can cum, but it comes at a price. His orgasm will hurt like hell, and he will spew his hot sticky jizz directly into his own face!
March 29, 2012 in Femdom Empire
The old Mean Girls Club site has been relaunched as Femdom Empire. And while the new site may not be as "teasing" as its predecessor, there is still the same formula of beautiful femdom Mistresses tormenting their male slaves.
It's no wonder that Goddesses Miki and Lexi are laughing. They've got their naked slave in the only place he deserves to be; the only way in which he is worthy of their presence. Strapped to a rack, bent over and ready for some anal training in the form of hard strapon fucking…
February 6, 2012 in live cams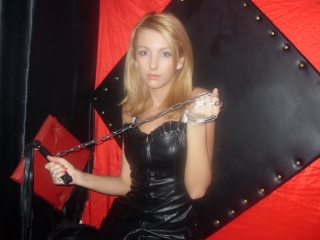 When you encounter such a beautiful Domme as MistressInga, you know that you have to bow down, worship and serve her immediately. Young, blonde and dressed to tease, She desires (and expects) tributes if you are the kind of pathetic loser who is incapable of pleasing Her in any other way.
As well as small penis humiliation and femdom teasing, Mistress Inga also specializes in bondage, CBT, sissy strapon training, cuckold and verbal humiliation. This Russian Mistress loves teasing and tantalizing domination, but be warned, She sets very high standards!
November 3, 2011 in Cock Tease Denial
One of the perks of being a teasing Mistress, is that she can do anything she likes to her slave, at any time and for any reason. Today, just for the hell of it, Mistress Di wants to conduct an experiment, to find out if body temperature has any impact on sperm. So she ties her slave in bondage, wraps him tightly in cling film and starts to milk his cock!